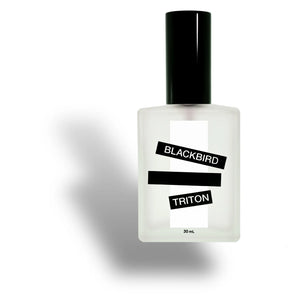 SCENT NOTES: violet leaf, iris root, cedar, aldehyde, incense, mimosa, carrot seed, dry amber, vetiver, styrax, black pepper

Triton, named after the moon of Neptune that was in turn named after the son of Poseidon, is a cold fragrance. Its scent carries the nose to the icy surface of its namesake moon, but it is not unrelenting. It's like being able to experience the harsh terrain from the relative comfort of a warm enclosure. It's about finding and relishing the beauty of a frozen landscape. 

Upon first application, it's like smelling a magnificent, incomprehensible ice world. Unisex floral notes blend seamlessly with bright aldehydes and minerals to create a remarkably crisp, cool scent contrasted by a hint of sweetness. Below the surface, dry amber, cold incense, and brisk woods tether the top notes from escaping and give structure to the unique, icy accord.


GENDER NOTES: All Blackbird scents are considered gender neutral. Although Ophir contains wood notes, the creamy, nutty and floral accents make this a scent loved by all.