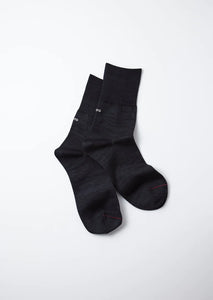 Woven organic cotton and recycled polyester everyday sock. Features both the comfort of cotton and the lightweight, quick-drying and durable properties of polyester. Versatile design that pairs well with both sneakers and dress shoes.
43% polyester, 37% cotton, 18% nylon, 2%polyutherane
small: women's 6-8, men's 5-7
medium: women's 8-10, men's 7-9
large: men's 9-11
Made in Japan.